Sept 2020: Notes in the Margins
Dinners, Driving, and Despair
I started September on a vacation in Iceland…nope.
I started September on a vacation in Germany. Yup. That's more accurate. See, I was going to go to Iceland but then they instituted a 5 day quarantine and I had to change my plans.
I'm not quite over it.
Really? Are any of us over any of it yet? This whole year has been steeped in confusion, loss, and adjustment. We've had to rethink so much day to day stuff these last 200+ days. Add to that a heightened level of uncertainty and trips to Iceland (or wherever) get cancelled and you've got a recipe for despair.
So what do we do about that? For me I have to constantly walk myself through a list of things that are working.
The good things that have come from this year are also there:
I've spent more time with a cat in my lap than any previous year

My commute is pretty amazing

We've all been given permission to stop wearing real pants

Every dinner out with friends feels like an adventure and a privilege

I have a job, a home, food on the table, and I'm not currently in need of a ventilator…that is pretty beautiful!
————
The highlight of my vacation was renting a car and driving somewhere new every day. There are so many things I love about living in a city where you can walk, bike, and take the train everywhere. And still…I miss driving. I miss owning a car. I miss the radio up, singing loudly, flirting with other drivers, speed, and freedom.
So I rented a car for 2 weeks. And I got up most mornings, made myself some coffee and hit the road. Me and Fleetwood Mac, Trisha Yearwood, Beyoncé & a few other good road trip friends. I'd drive until I found a lake, go for a swim, read a book, and then drive home via a different (often longer) route.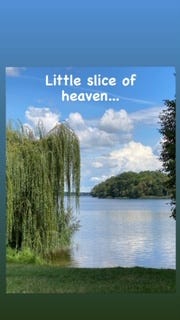 And a magical thing happened. My brain reminded me of some part of myself that I tucked away. Some part of me that I'd put aside. The simple act of doing something as familiar as driving reminded me what it means to have agency, free will, and license to do what you please.
The little reminders are what we need during these crazy times. Because the truth is, despite all the things we can't control, we still have a choice each day to engage in living. To not choose to feel stuck, but choose to be right where we are supposed to be. I recognize the privileges that exist in the life I have created for myself. Only I can change what makes me unhappy. And really…there is so much joy to be found even in the difficulties.
————
So yeah…I didn't go to Iceland. But I did go on a little journey that helped me remember myself. And for the record, that girl I found is pretty kickass!
A few other things that happened in September:
Attended another of the poet David Whyte's 3-Sundays virtual events. There is no storyteller I love more. And the bonus of sharing it with Tanya from half-way around the world is a blessing (Another will be available in November https://live.davidwhyte.com/)

Dinners with so many of my Berlin friends…many from Klarna. I feel so fortunate to have these folks as friends. Babies and Beers and Björn…not in that order or in combination.

Took part in a virtual 3 day immersion as part of my current Grad School class. It involved me staying up until 2 AM for three mornings in a row. I'm glad that's over…but this class…it is the least fun I've had in grad school since starting. 4 more weeks…just need to make it 4 more weeks!

A couple of meaningful offsite days with the Founders and my leadership team. Good stuff…made more fun by being together. Taken to the next level by a founder going on his bike to get us Vegan Donuts…because that's what servant leadership looks like. (And also he wanted a donut!)

I did some writing. Not as much as I'd have liked (see bullet 3 for my current excuse)…but when I could eke out some time, the words fell off my fingertips and into scrivener. It's slow going…but it's going.

Books I read this month:

The Truths We Hold: An American Journey by Kamala Harris

Humankind: A Hopeful History by Rutger Bregman

Strategic Organizational Alignment by Chris Crosby

Pretty Things by Janelle Brown

Stop what you are doing and get a copy of Humankind. Don't question me on this. Just get it. Read it. Be a better and more hopeful human.
Happy October! Put on a sweater, light a candle, make soup, and lean into the change of seasons.
xo
Leah